32 years of experience in construction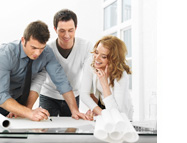 Every project manager, field supervisor and laborer is hand-picked by the owners of GAFCO. This commitment to employees, sub-contractors, field work, office work and customer care is what GAFCO is about.
GAFCO's management team, which includes the owners, will visit every project at least once a week, if not more to assure the timely delivery of the project, until the last nut and bolt is completed to the customer's satisfaction.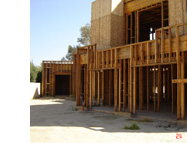 GAFCO's Tenant Improvement Team has completed work for Mattel, Raytheon, DirecTV, Los Angeles School District, California State University System, Hughes Aircraft, Hughes Space Systems and Boeing Aircraft just to mention a few.
GAFCO's Commercial Management Team has completed projects that include remodeling of malls, warehouses converted to flex space or mini warehouses, office building complete renovations, such as Mattel's El Segundo corporate offices and individual office space for local businesses.
GAFCO's Foundation Team has completed the foundation that is the main structure of the pyramid at Cal State University, Long Beach, CA, as well as complete concrete pilings for ground stabilization in waterfront homes and isolation pads for satellite systems for aerospace companies such as Hughes Aircraft, Raytheon and Boeing.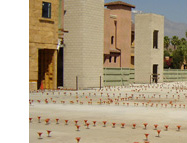 GAFCO's Land Development Team has the ability to take raw land and develop complete, fully-functioning sub-divisions, such as Desoto Woods, Sarasota, FL and Tuscan Ranch of Palm Aire or do a complete transformation from single family home in Dana Point to a Tuscan Villa overlooking the Pacific Ocean. Developing outparcels of land and completing commercial building for companies such as Starbucks and Quiznos, is GAFCO's forte.
Team Members
Helene J. Frudakis, CEO/Owner
Helene J. Frudakis is the owner of GAFCO and head of the design center.  She is also a  Florida Licensed Real Estate Broker , as well as obtaining her Florida Mortgage Broker's license back in 2005.  She has acquired an extensive amount of knowledge over the  past several years in the construction industry, real estate industry selling residential, commercial and development properties.  She first started in real estate with Coast to Coast Realty Group, Inc. and now has her own brokerage firm, Florida VIP Realty, Inc.    GAFCO, Inc. is a woman-owned corporation in the process of obtaining minority status.
George Frudakis
George Frudakis is a Builder/Developer and a licensed general contractor in the states of Florida and California. He has a vast experience of over 32 years in the construction industry.