Excellent construction from start to finish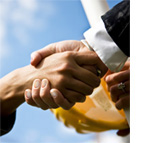 GAFCO Construction is a full-service, self-performing general contracting firm.  Our company is a woman-owned corporation and is in the process of obtaining minority status.  Helene Frudakis is the owner of GAFCO and head of the design center. Helene Frudakis is also a licensed real estate broker and owns Florida VIP Realty, a full-service-boutique real estate brokerage that is located at the Florida headquarters office.  GAFCO's  head of construction, George Frudakis has over 32 years of experience in the industry.  GAFCO has the ability to complete any project, from the planning, to in-house architectural design to final completion. Some of the high quality projects that George Frudakis has completed in the past include:  Raytheon, Boeing, Mattel, Direct TV, just to name a few.
GAFCO's hands-on dedication to detail on every job is the company's policy and carries over to all partners in business with us at all times.  GAFCO's ability to complete a project on time and within budget has given us repeated customer loyalty.
Excellent construction work depends upon reliable communication, prompt response and meticulous attention to detail, all of which our firm is well equipped to provide. Effective and timely communication is our number one priority in each construction project. It is our attention to this essential detail and our dedication to exceptional customer service, which has built the reputation of GAFCO, Inc.